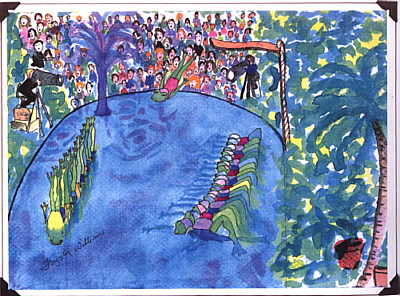 Sometimes the two
talents have been
combined. Some
Hollywood stars
swam and dived
back in the 40's.

Click on "flip" to turn the page
Please be sure to send your comments and praise
to Patricia at phpowell@talesforallages.com.
For more information about Patricia HrubyPowell
and her storytelling, books, illustration, and dance,
see her Tales for All Ages website.
---
This page created by Pixel Mountain Design

Please contact design@pixelmountain.com with any comments or suggestions.
Copyright © 2002 Pixel Mountain Design, Inc. All rights reserved.
Revised: January 28, 2002.
---